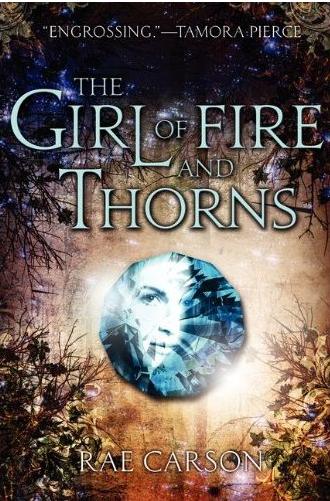 From Goodreads:
Once a century, one person is chosen for greatness.

Elisa is the chosen one.

But she is also the younger of two princesses, the one who has never done anything remarkable. She can't see how she ever will.

Now, on her sixteenth birthday, she has become the secret wife of a handsome and worldly king—a king whose country is in turmoil. A king who needs the chosen one, not a failure of a princess.

And he's not the only one who seeks her. Savage enemies seething with dark magic are hunting her. A daring, determined revolutionary thinks she could be his people's savior. And he looks at her in a way that no man has ever looked at her before. Soon it is not just her life, but her very heart that is at stake.

Elisa could be everything to those who need her most. If the prophecy is fulfilled. If she finds the power deep within herself. If she doesn't die young.

Most of the chosen do.
*****
I don't even know where to start with this book. It was fabulous, and at the same time it kind of made me pull away a bit and ask, "What?"
Elisa is the chosen one. She literally has a Godstone in her navel. This stone is almost like a link to God, and it directs her in some of her more challenging moments. The Godstone means that she has been chosen to do something amazing! But she has no idea what, and she doesn't know if her task will ever be completed. Many of the Chosen don't live long enough to complete their tasks.
On her 16th birthday, Elisa marries a kind and handsome man who is the king of a neighboring country. When they reach his kingdom a few weeks later (with much trial and hardship), Elisa soon learns he means to introduce her merely as a "guest" and wishes to keep their marriage a secret. A marriage that was nothing but a contract for more troops in a war that is fast approaching.
And thus begins an epic tale of a girl who must overcome her self-doubts and find the courage to save a nation. And yes, I mean epic.
I read this book a month ago, and I can still see the story in my head. It was that good. The author does an amazing job of giving the reader enough detail so that we can see what's going on, but not so much that I'm flipping the pages looking for dialogue.
Elisa is the kind of character that grows naturally, and yet she still has her self-doubts and lack of confidence, even though she's slaying the dragon. Hypothetically speaking. I thought she was so real, she could have been the girl next door instead of the girl of fire and thorns....:)
Battles and war are always a little difficult for me to follow because there is always so much history shoved into a tiny little space. However, with The Girl of Fire and Thorns, the war history was only a tiny bit tiresome, so that's pretty good.
I sometimes had a hard time figuring out who was the bad guy and who really was good. There were a few times I thought a good guy was about to betray Elisa, and he never did. That's a little confusing as a reader. I like a surprise, but I don't want to be constantly on guard for something that never happens.
This is a very, very sweet love story as well. And that was one of my most favorite and least favorite parts of the book. I won't say more because it will give away too much.
This was a clean book with battle violence. If you're like me, you'll be heavily invested emotionally. This is apparently a trilogy, and you can bet your bottle rocket I'll be reading the other books in the series.
Reading level: Ages 13 and up
Hardcover: 432 pages
Publisher: Greenwillow Books (September 20, 2011)
Language: English
Souce: Publisher via Netgalley
Pin It